Greetings friends! Molly, Kurt, and I have returned from holiday, and we will resume our usual bloggings and relieve Jess of bearing the whole burden of upkeep on this front.
We had a wonderful trip! We began in the UK, spending two days in London. We visited the British Museum, Imperial War Museum, National Gallery, Trafalgar Square, grabbed a drink with some Vision friends at a pub, and attended mass at Westminster Cathedral. The cathedral mass was a special highlight as we were able to join in with the mass responses as confidently as our fellow worshippers since the community had already transitioned to the new translation. It was really beautiful to be Americans visiting from Ireland yet still able to join completely in unison with the British Catholics there.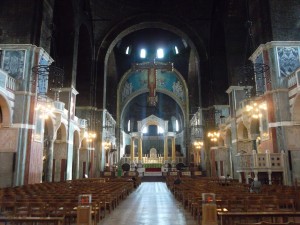 We also had the delight of staying with our friends, the Youngs, at their home in Richmond. It made our time in the UK much more wonderful to have a home and a mom and dad to go home to for those two nights. Thanks to Barb and Terry!
We then moved on to Madrid for a day before taking an overnight train with our friend Colin, who is studying in Toledo, Spain, for the semester, to
Sarria
to begin our
pligrimage
walk on the
Camino
de
Santiago.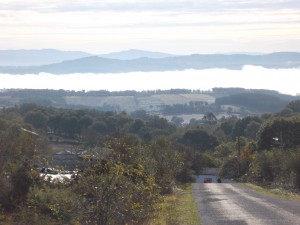 It was a beautiful experience of so many things – the wonder of nature, as we hiked through woods and forests but also villages and towns; the charm of rural Spain with its farms and small shop-, cafe-, and hostel-owners; the Body of Christ, as we passed and were passed by fellow pilgrims, some sharing their stories with us, even if in Spanish or broken English; the joy of re-learning community, walking together, deciding our gameplans, and especially cooking and eating together each night; the wonder of the Church, especially as we reached the cathedral in Santiago and joined so many other pilgrims to receive our compostelas and celebrate pilgrims' mass on All Saints Day. It was a deeply wonderful experience that will allow much more reflection for us to all appreciate more and more.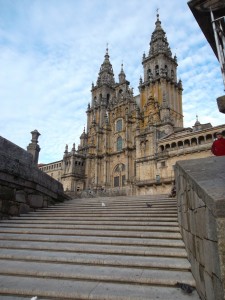 And while we were gone Jess just took it easy – oh wait, she did tons of great stuff to pick up our slack! Our sitting room has our incredible new St. Brigid painting on its hearth now. Our original St. Brigid painting now welcomes guests in near the front door. Jess continued her quest to make a copy of our office key for me, which I finally have after four tries (I'm a real boy now), thanks to her perseverance. Jess also power-cleaned and organized our house to make it awesomer-er. Meanwhile, at the parish, I was most impressed by the terrific support flyer she made to send out to our Confirmation adult leaders (which she linked in her previous post). Jess did the work of five people while we were gone, so now that all four of us are together again, I don't know that we can stack up…
In addition to our usual batch of masses this weekend, we are celebrating a Word of God weekend as part of the parish-wide prep for the Eucharistic Congress. It follows on the first two weekends about the mission of the IEC and gathering in the mass. Later on Sunday, we will assist with an Adoration retreat, as music ministers for the mass and Holy Hour. The schools return from mid-semester break on Monday, and we'll be gearing up for more class mass work and preparations for our Christmas Carol Services, too. The pilgrimage continues!